Glass walls or tempered glass walls are made from tempered glass and designed with beautiful, pure and transparent colors combined with accessories such as clamps, spider legs, hinges, corner clamps, latches, and handles…
Glass provides an unobstructed view of the building's occupants and can be molded or bent into any shape. Glass facades, glass domes, tempered glass aluminum doors, glass walls help take advantage of natural light penetrating deep into the interior space. When installed correctly, glazing saves you money on heating, cooling and ventilation. The types of glass used are usually tempered glass, safety glass, etc.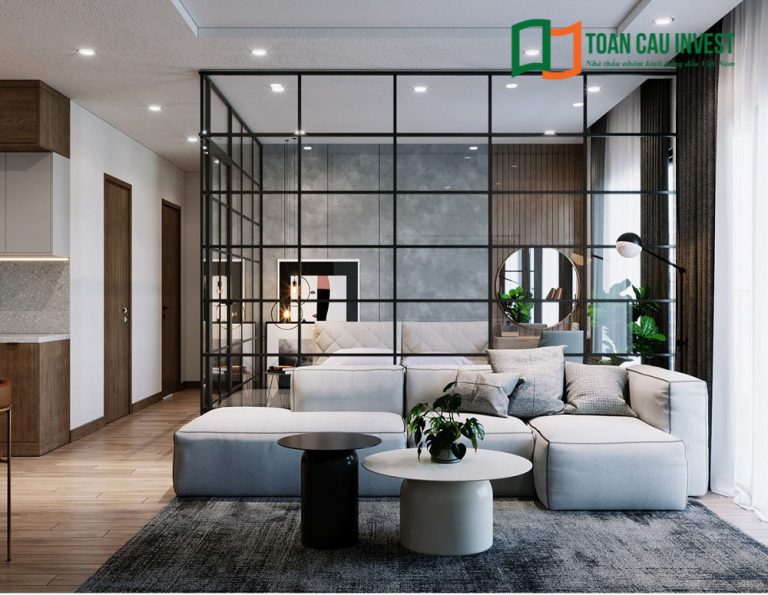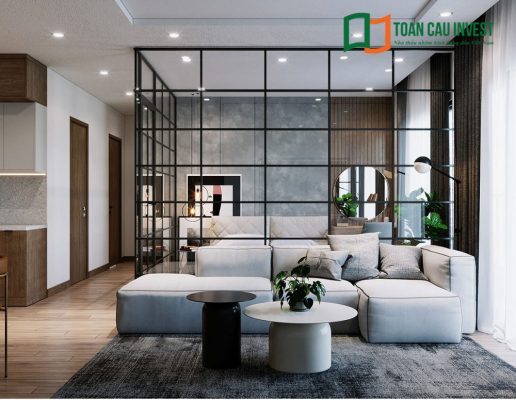 Toan Cau Invest is currently one of the best contractors of aluminum and glass construction, who is supplying tempered glass walls for high-rise buildings, apartments, villas and apartments…With more than 10 years of experience in the construction of aluminum and glass products and a professional and dedicated working attitude, Toan Cau Invest has always received the trust of customers and partners.
With a luxurious, elegant appearance, bearing capacity, impact resistance, large load capacity, ease to clean, the tempered glass wall is the perfect solution for decorating high-rise buildings, offices, buildings or any space depending on your preferences. At the same time, the construction and installation of tempered glass walls are very simple, convenient, do not take much time, and are affordable. So, understandably, many customers choose it.
What types of tempered glass walls are there?
Nowadays, glass walls are a top priority product in modern design. Wherever we go, we also encounter tempered glass walls because the product creates the aesthetic beauty of the building in a luxurious and modern way as well as many benefits for users. Toan Cau has a team of experienced staff and quality sources to provide the most prestigious and cheapest tempered glass wall construction services all over Vietnam.
Classify genuine beautiful tempered glass walls for offices, replace aluminum doors, toilet doors, bedroom doors, and bathroom doors with glass walls. The most popular sizes are 10mm tempered glass wall models and 12mm tempered glass wall panels.
Ordinary tempered glass wall
The structure includes: tempered glass, collapsible brace (aluminum, stainless steel, …), silicone glue, screws, accessories, floor hinges…
Application: This is a popular and civil tempered glass wall used to divide rooms, make facade glass walls, townhouse glass walls, shops, showrooms, glass shower walls, etc.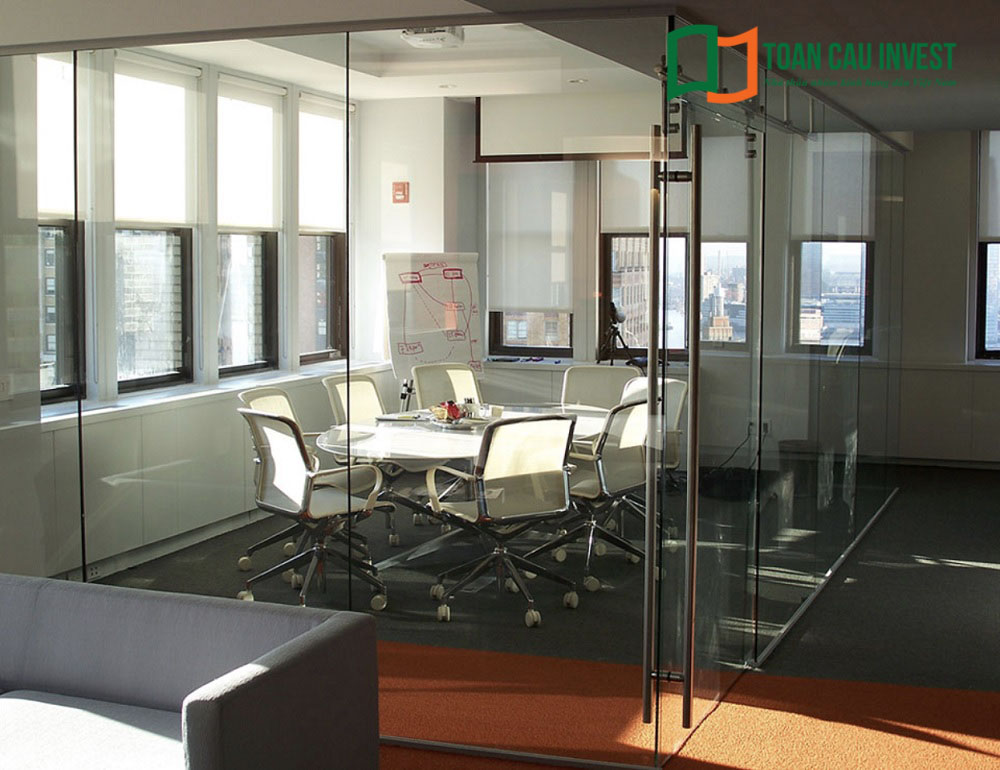 Facade tempered glass wall
The structure includes: tempered glass, reinforced aluminum frame, silicon glue, screws, accessories, floor hinges…
Application: Used in constructions such as high-rise buildings, street buildings, buildings with wide facades such as household buildings, rental buildings, office buildings, banks, commercial centers, hotels, restaurants,…
Spider Glass Curtain Walls (Spider-based facade glass wall)
The structure of the Spider Glass Curtain Walls includes: tempered glass, spider legs to link the glass panels, reinforced stainless steel frame, silicone glue, screws, accessories, floor hinges, …
Application: Used for works, buildings such as commercial centers, hotels, restaurants, offices for rent, shopping malls, tourist areas…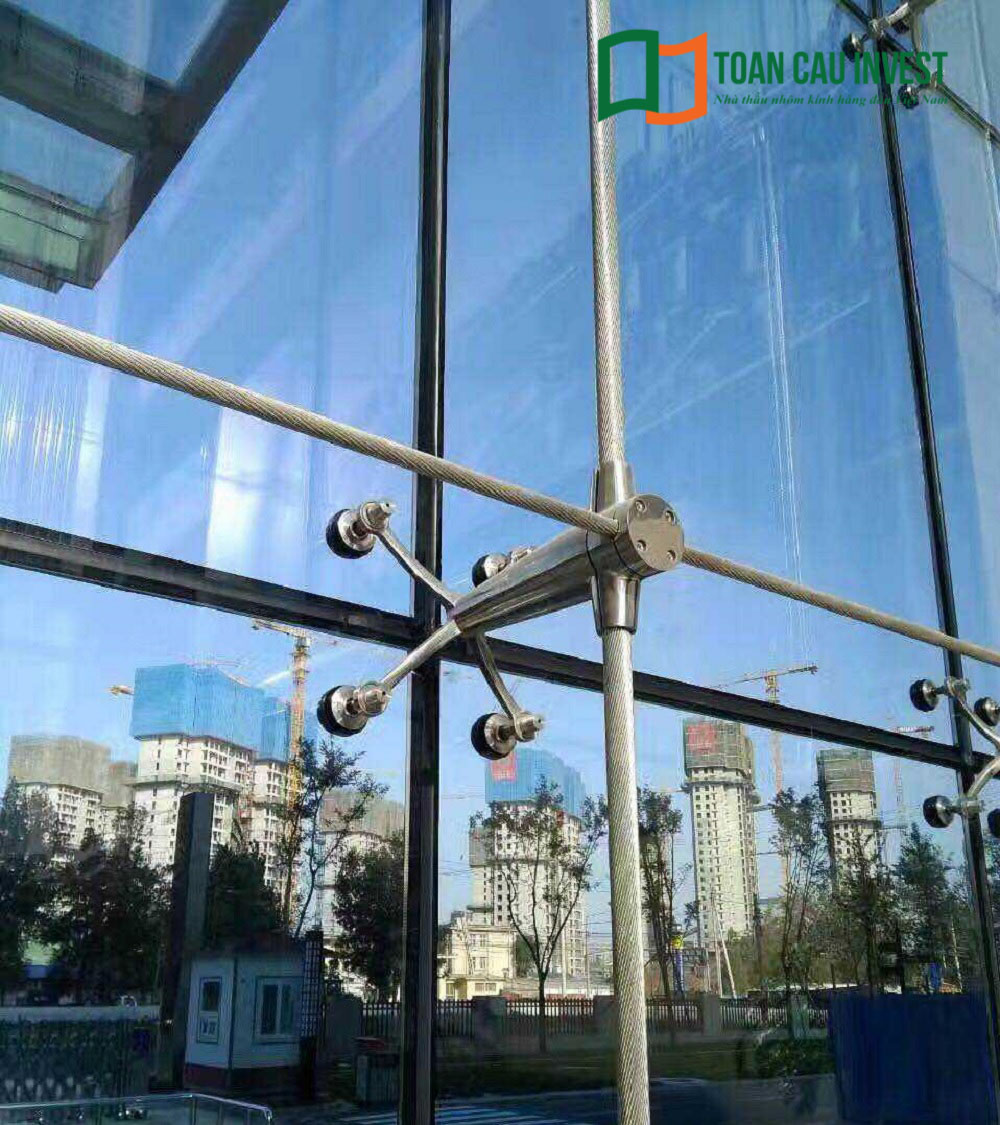 Stick facade system
The Stick facade system is an aluminum and glass facade system installed on the principle that the aluminum frame is installed before the glass is installed. With the Stick system, the assembly of the aluminum frame and the finished glass is done at the construction site.
Unitized Curtain Wall
A Unitized façade wall system is an aluminum and glass façade system that is manufactured and processed at the factory into modular panels. After completion, the Unitized facade is transferred to the construction site and fully erected.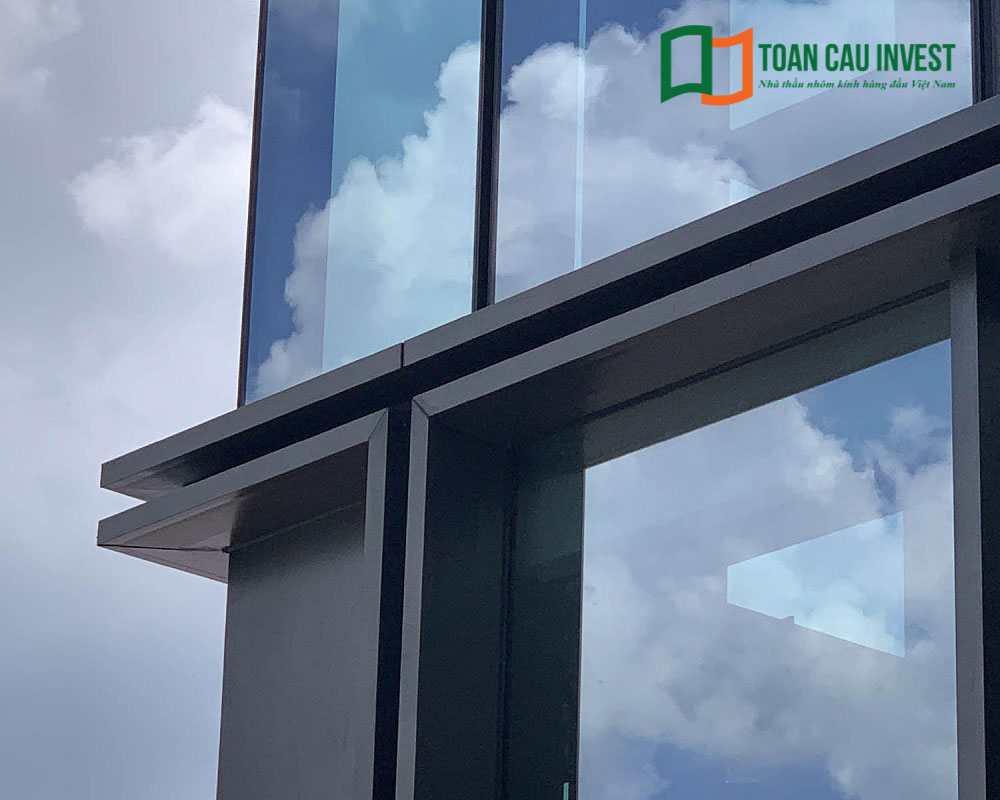 The basic structure of the unitized facade wall includes aluminum, glass, a gasket system (or silicone sealant) and bolts and screws.
Application: installed in many high-rise buildings, office villas, resorts and commercial centers, etc. Usually best applied for projects with the same outer surface and height.
Semi – Unitized facade system
Semi – Unitized facade system is made up of components including: aluminum bars, glass, sealant, screws, bolts,…
Application: in many high-rise buildings, commercial centers, high-rise buildings, places where a lot of light is required, etc. Often used to install high-rise buildings with a large distance of floors or use Used for large works and projects with complex structures.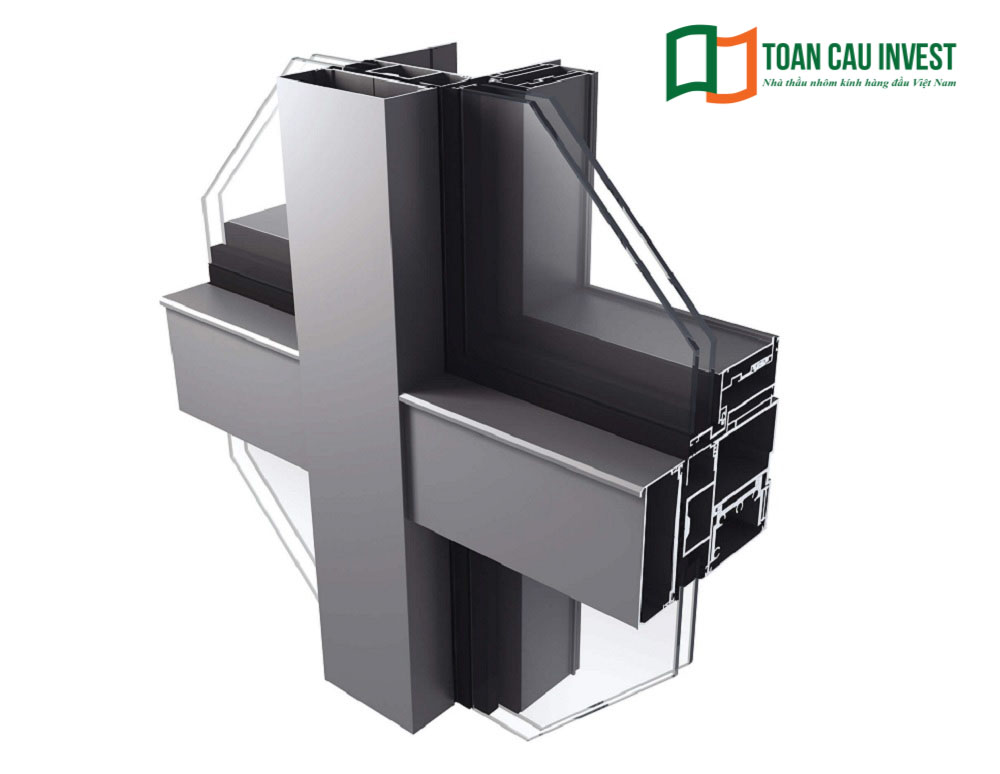 Advantages of construction of aluminum tempered glass wall
Safer
One of the most obvious and valuable benefits of tempered glass wall products is safer. Tempered glass is harder than regular glass, so it is resistant to breakage. But when it does break, the tempered glass shatters into small, pebble-like shards, instead of the sharp shards of traditional glass. Be aware that the sharp shards of ordinary glass when broken can cause deep cuts and serious injury. Choose tempered glass wall products to prevent possible serious injury from glass breakage and keep you and your family protected.
More durable
The strength of tempered glass walls means they can withstand environmental impacts, scratches, strong winds and other weather elements. Tempered glass walls – products are often used in high-rise buildings and commercial centers with their ability to withstand higher forces.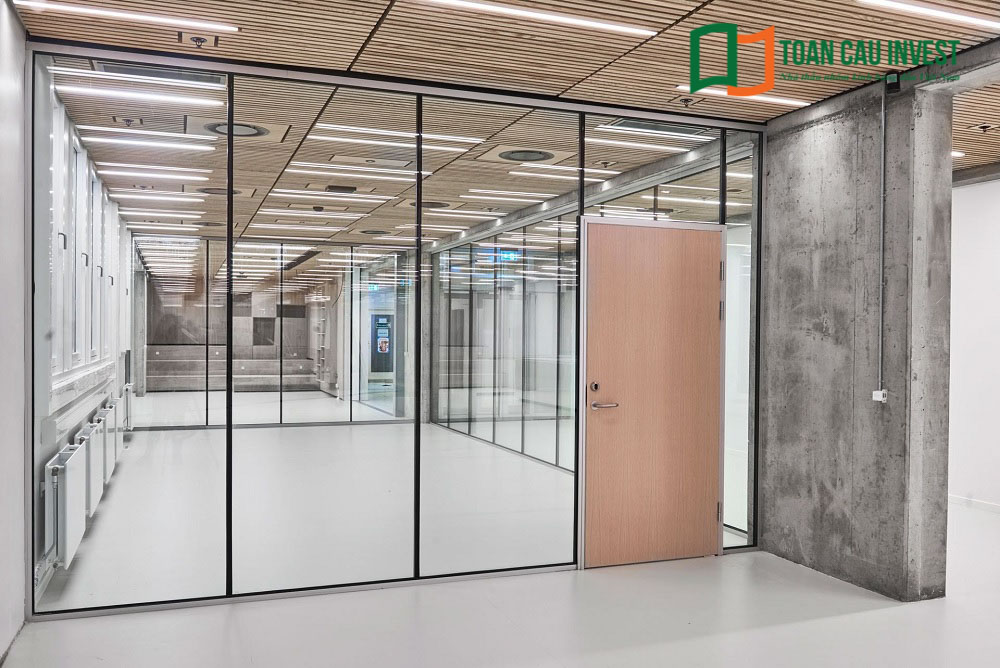 High-grade aluminum bar withstands all kinds of weather pressure, even if it is a level 12 storm, combined with tempered glass to withstand great gravity, the glass can be used in all the harshest weather conditions.
Scratch resistance
Tempered glass walls are ideal for houses and apartments. This aluminum and glass product is more resistant to scratches and wear and tear than conventional materials. Using tempered glass for doors, display cabinets and windows ensure these surfaces are always perfect and more durable. With glass wall products, you are very easy to clean when there are stains. That's why it always shines like new.
Heat resistance
Products made from tempered glass can withstand different weather conditions such as rain, sun and wind. When ordinary glass is exposed to heat, it can shatter into dangerously sharp shards. Tempered glass wall withstands high temperatures, and does not warp or deform. This is one of the reasons that tempered glass doors are required in bathrooms where there is a possibility of exposure to hot water.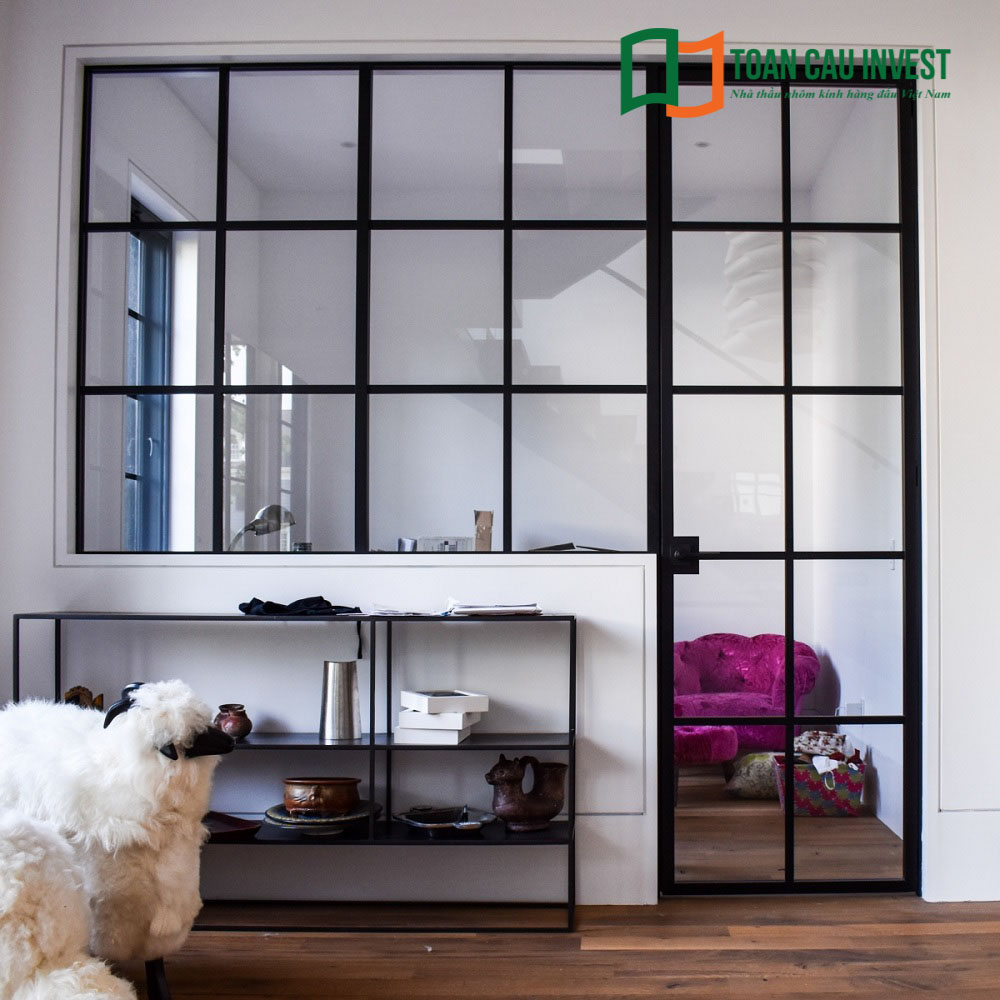 Versatile Design
Tempered glass doors can be used in many creative and unique applications. Tempered glass partitions are necessary for frameless shower doors and other frameless glass structures such as partitions and doors. This contributes to a creative and stylish effect on both residential and commercial spaces.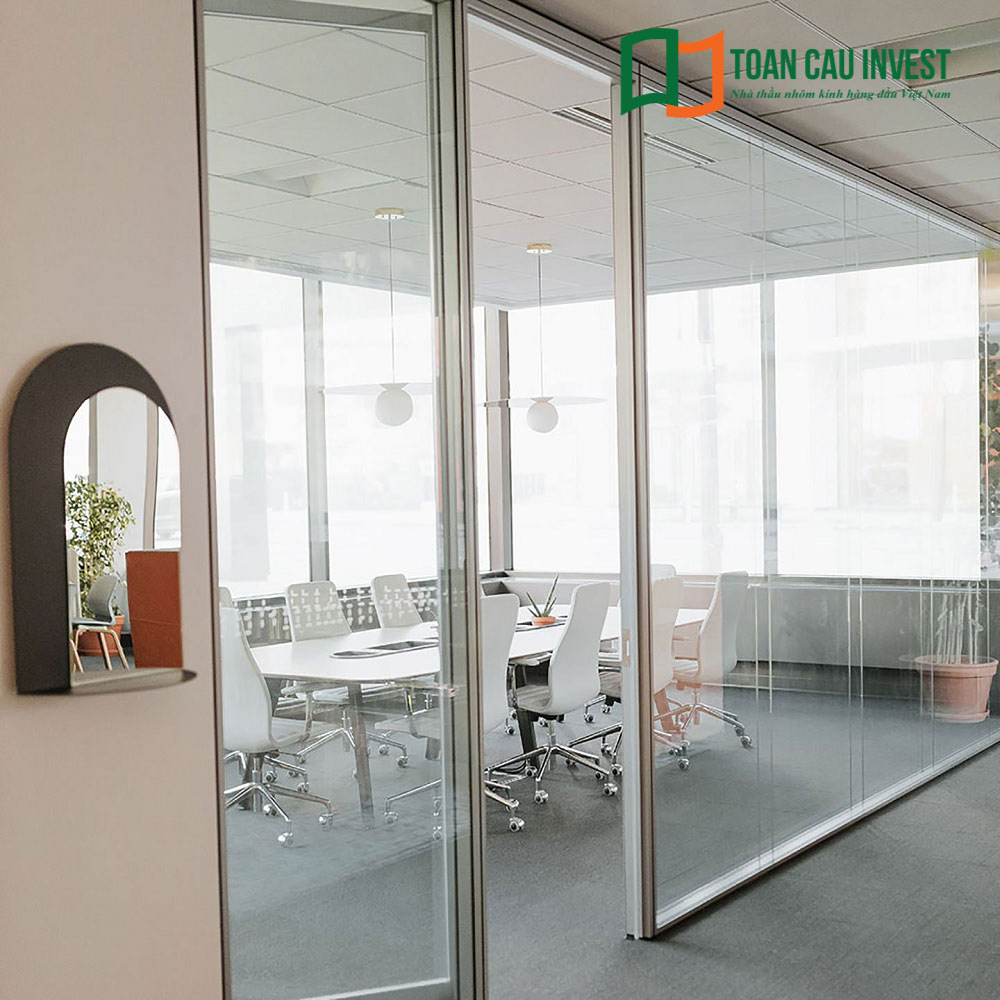 Tempered glass or aluminum glass wall has always been preferred by many people because of their luxurious and delicate beauty. From simple elegant designs to classic patterned glasses, there are enough styles for you to choose from.
Various models
Tempered glass walls are also available in a wide range of patterns and designs to add style and uniqueness to living spaces. Patterned, frosted, clear and engraved color options are available to ensure you get the creative glazing option you want.
High quality
Tempered glass doors are of high quality with outstanding transparency and results in a variety of settings. Whether you choose tempered glass for your shower enclosure, window, cabinet or display case, you can be assured of the maximum quality.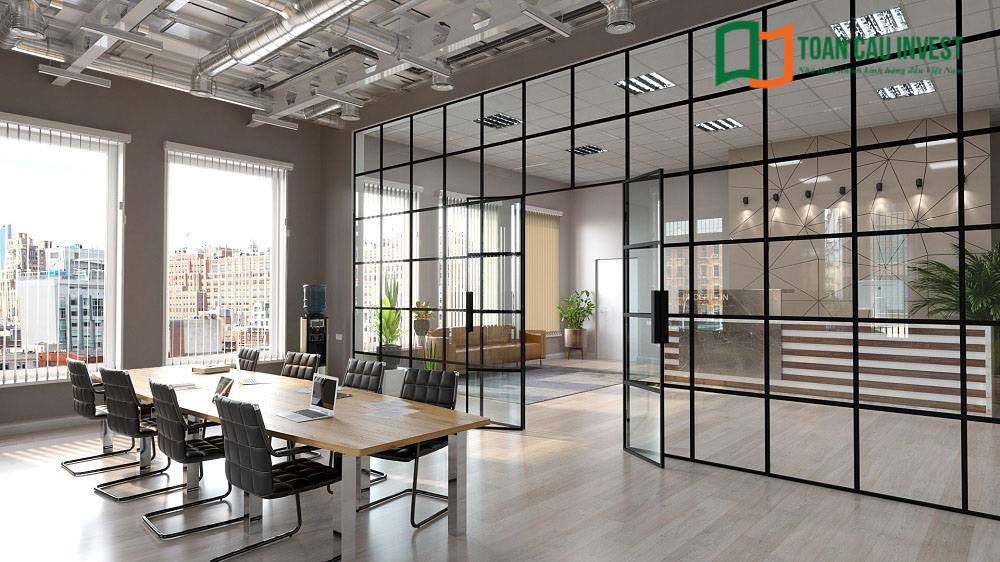 Why should we install high-quality tempered glass walls?
When it comes to effective use of the workplace, you need to consider space division, room lighting, sound insulation and transparency in the office space. 10mm tempered glass wall and 12mm tempered glass wall… are the ideal solutions to bring satisfaction to customers.
Tempered glass walls – The perfect solution for visual effective
Tempered glass walls are a practical solution in the workplace. Tempered glass partitions are preferred because they let daylight in and serve more benefits in the workplace where every employee can maintain eye contact.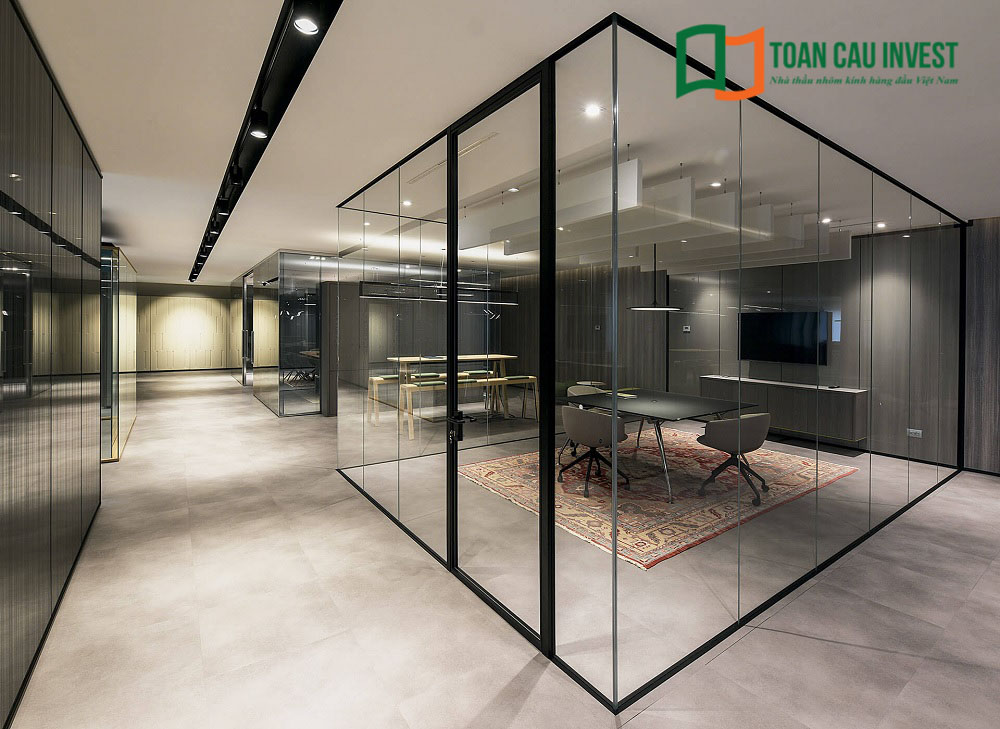 Modern life is limited to living space, and so it is difficult to get sunlight. Sunlight has a positive impact on our general health. It is useful for increasing employee productivity and performance and has been shown to reduce stress. A tempered glass wall system is a great addition to taking advantage of light in any building.
For advice and quotation for the construction of tempered glass walls with high-class accessories, please contact us immediately: 0902 50 1185.
Tempered glass walls – The right choice for the workplace
Workplaces are often multicultural spaces where people from different backgrounds, norms and cultures work together. To establish harmony and a sense of cooperation between people, visual contact between them is essential. Tempered glass partition systems are ideal for creating transparency in work environments where people can make eye contact with each other.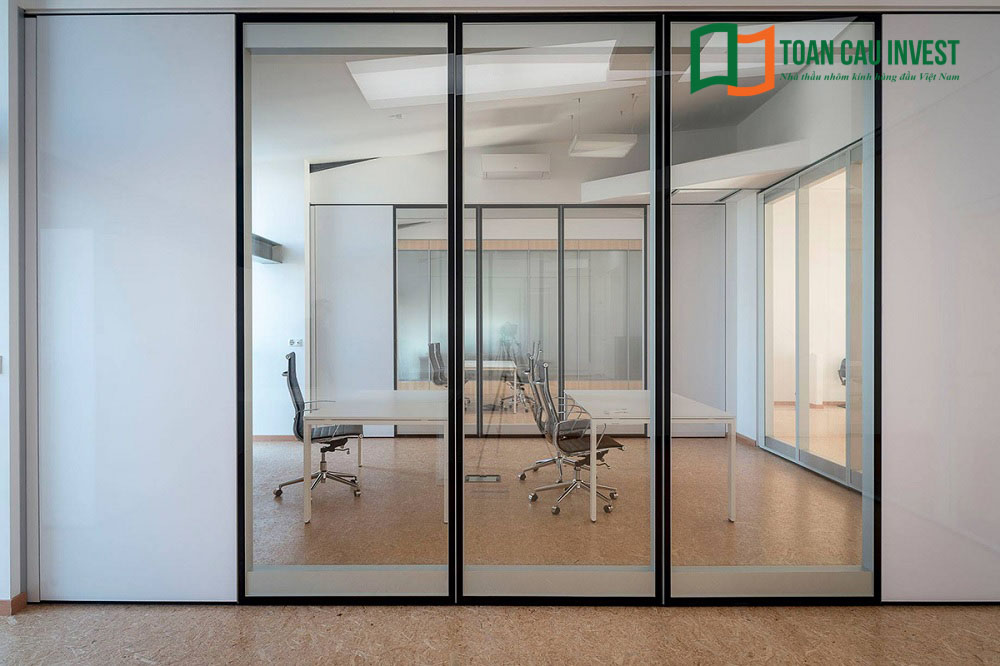 Toan Cau Invest can help you create transparency in your workplace by installing office glass doors. We manufacture the right design based on your needs, construct and install tempered glass partition doors with minimal structural detail to avoid obstructing frames.
Tempered glass walls help create a professional workspace
Tempered glass wall systems provide a modern perspective, conveying the messages your organization is focused on for the future. Glass partitions are commonly used to increase professionalism, where the message is communicated to every individual in the workplace: a promise of transparency and honesty.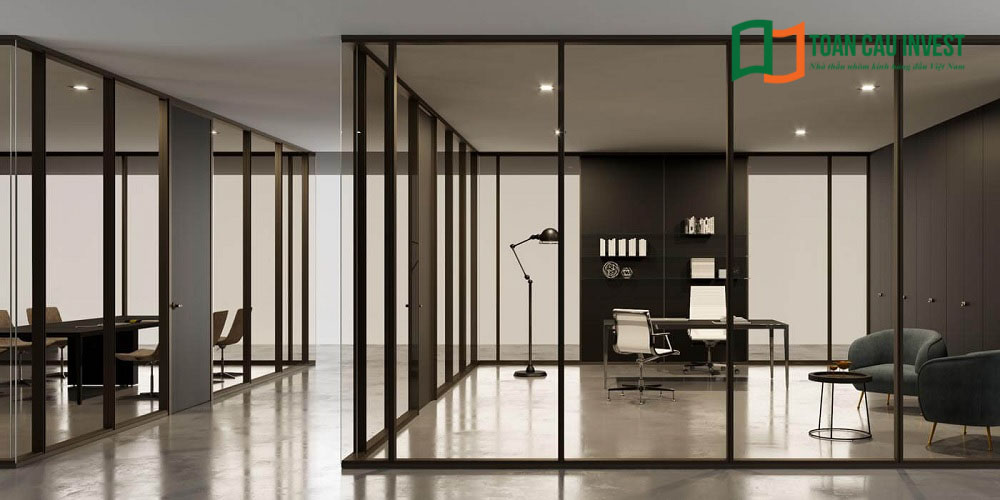 If you want to create an impressive work environment and build an outstanding team, a facade system is an ideal way to do it. People will realize that nothing is hidden behind closed walls, and they are more likely to trust your company and employees. This transparency will help improve company productivity and create better communication.
Standard glass wall construction process
Step 1: Inform installation cost
We will send you a quote to your email address. After you check and agree to quote, we will send technical staff to measure and give you catalog samples for approval.
Step 2: Surveying the construction of aluminum and glass walls
It is necessary to carefully investigate the location of the project's glass wall construction to come up with the most appropriate method of choosing the glass wall. Determine the positions that need to be drilled, chiseled, etc., and special spots for processing the glass first.
Step 3: Agree on the installation plan and choose the glass
After conducting the survey and choosing the appropriate plan, proceed with the construction and installation of glass walls to ensure the time and progress of the work. Depending on the needs of the investor give appropriate options to choose the thickness of the glass. Types of aluminum and glass walls commonly used today are 5mm, 8mm, 10mm and 12mm.
Step 4: Construction and installation of the upper and lower clamps and the frame
Install the upper and lower clamps of the glass wall to fix. Please note that during installation, there should be no gap between the two glass panels. Additional frames can be installed to better protect the glass wall if required by the investor. There are two commonly used frames: 304 stainless steel frames or aluminum frames.
Step 5: Handover and acceptance of the project
Handing over the project and taking over the work, and instructing on how to use and clean it to ensure that the aluminum and glass walls are always bright and shiny. After the installation is complete, within 1-3 hours, you do not touch or clean the glass, ….to ensure the correct technical standards and durability of the silicone glass glue.
Which company provides reliable and professional tempered glass walls?
Are you looking for a company that manufactures and installs tempered glass doors and windows in the inner city of Hanoi, Ho Chi Minh City and other provinces across the country? Do you need to consult the price of tempered glass walls? Whether it is your office or home glass wall, Toan Cau Invest will advise on the right construction and installation solution with the cheapest tempered glass wall quote for every project.
Toan Cau Invest has manufactured and installed all kinds of tempered glass walls in many homes and offices. Our approach is based on the highest quality standards to ensure the best service and lowest quotes.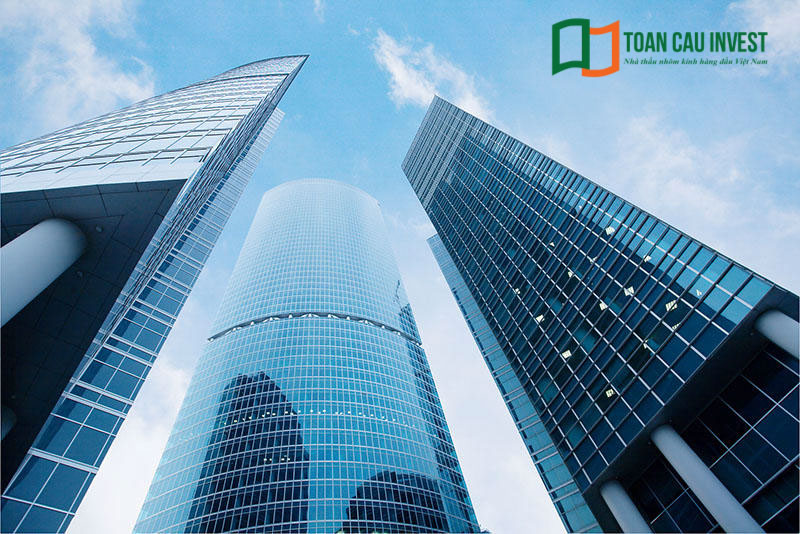 If you want to change the look of your office and upgrade it to a modern level, using a tempered glass wall system is a perfect way. In addition to providing numerous benefits for the workplace and employees, it also feels luxurious, despite being a cost-effective solution.
For all installation and manufacturing solutions related to glass facades, Global Invest is the ideal place to contact. We specialize in the installation and construction of tempered glass walls with the cheapest prices on the market today.
Choosing to install a tempered glass wall model depends on what your needs and preferences are. We will advise on installation and quote tempered glass walls with high-class accessories to meet your requirements. Toan Cau always ensures product quality standards and customer requirements. This is what makes us a reliable and professional manufacturer and installer of glass walls.
Toan Cau Invest – Serving customers with the highest quality services
At Toan Cau Invest, we are thriving to provide consumers with high-quality products. Leading from design, and manufacturing to testing and finishing installation, we adhere to the leading standards of the aluminum and glass industry. We want to keep your workplace a symbol of modernity and future workplaces, so we go the extra mile, and instead of just working, we serve you with good advice. best, keeping your requirements in mind and offering the most competitive aluminum and glass quotes.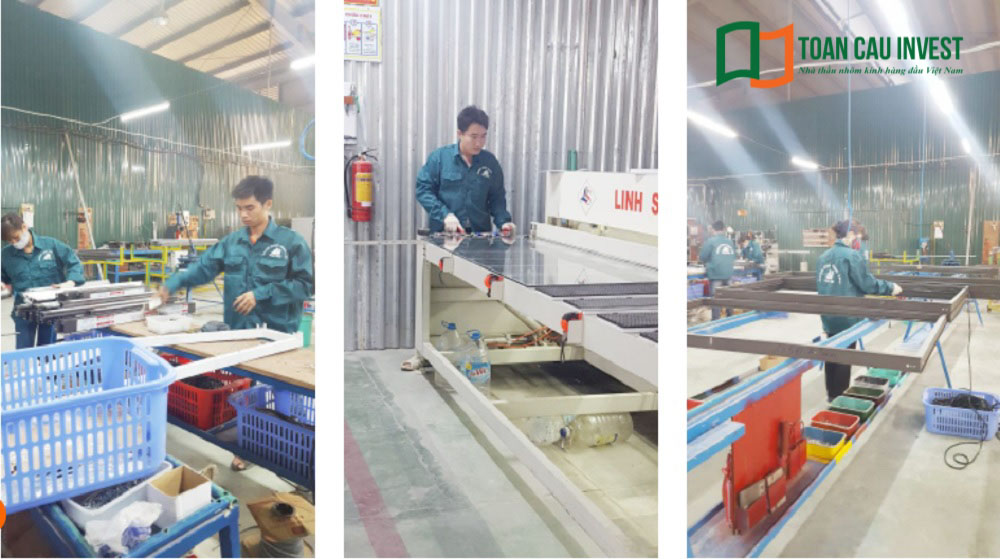 We guarantee your safety, the beautiful glass walls are tempered and the sharp edges are smoothed with high sharpness. Tempered glass edges are rounded to avoid any injury in any situation. We use transparent silicone and foam sheets to reduce vibration and resistance between the aluminum-framed glass walls. We also ensure soundproofing by using premium tempered glass frames.
Quotation for construction of tempered glass wall
Toan Cau Invest would like to send to customers the latest tempered glass wall price list, the most cost-effective offer in the market. We have the advantage of being the leading supplier of tempered glass construction in the market, bringing high-quality value products with the most preferential prices.
We work closely with organizations and individuals to determine business needs, manufacture and install glass walls for businesses. We consult and quote for construction and installation works of aluminum and glass products and accessories, including glass partition systems and interior office partitions with different glass material structures.
> Unit price of glass wall = Price of glass part + Price of accessories + Additional materials + Installation cost
The unit price depends on the area of ​​​​the glass wall as well as the division that has different prices. Xingfa aluminum fixed wall is cheaper than windows or doors because the product consumes less aluminum material, so it is cheaper. We are a supplier of glass structures, consulting glazing solutions, with experience from industry experts. Contact us for a free consultation on installation, technical support, and best business use with the cheapest tempered glass wall construction quote.