TEMPERED GLASS RAILINGS – COMPLETELY TRANSFORM YOUR SPACE
Today, tempered glass railings are gradually becoming a trend and completely changing the previous materials for railing such as iron and wood. When bringing glass into designs such as glass stairs or glass balconies, will help the house architecture become more beautiful, modern, polite and safe.
Tempered glass railings have a stunning visual impact, add openness, make the space feel larger and facilitate the flow of light. It adds elegance and value to your home. When designed and installed correctly, is extremely safe and functional.
A tempered glass railing is a combination of tempered glass and accompanying accessories such as stainless steel pillars, stainless steel wooden pillars, wooden handrails, stainless steel handrails, and other synchronous stainless steel accessories to create a unified whole. , both to ensure safety and to decorate.
Construction and installation of TEMPERED GLASS RAILING is one of the strengths of Toan Cau Invest. With more than 10 years of practical construction experience, we are always highly appreciated by our customer and partners for our professional capacity, construction quality and completion on schedule!
STRUCTURE OF TEMPERED GLASS RAILING



Glass railings are made up of tempered glass, handrails are made from stainless steel or aluminum alloy and accompanying accessories. Tempered glass railings help the indoor space to get maximum natural light, easy to clean, durable and safer. Besides, it has a modern and luxurious design, which is built in many architectural works.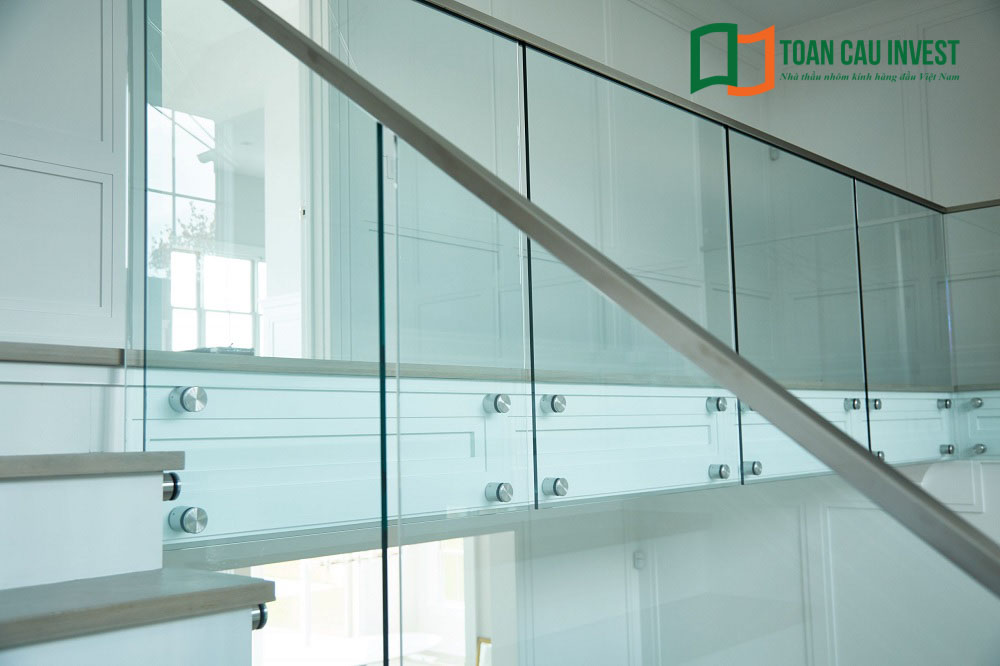 Glass: Tempered glass railings are made of tempered glass with a thickness of 10mm or 12mm.
Accessories: Includes stainless steel posts, wooden stainless steel posts, stainless steel handrails, wooden handrails, bonding code, bonding screws, Apollo Silicone glue and additional accessories.
Railing post: As the main bearing for the entire railing, it has the effect of fixing the glass panels. In addition to decorative effects, railing posts have two main types: high and low pillars.
Handrail: As a head brace detail on the glass railing, to ensure that the glass panels are not displaced, the handrail has a bearing effect and decorates the railing. Glass handrails are mostly made of stainless steel.
Handrail code: As the part that connects the railing post to the floor, it has the effect of ensuring a strong connection to keep the railing safe.
WHY WE SHOULD USE TEMPERED GLASS AS A RAILING?
Tempered glass railings bring luxury and modern beauty.
Tempered glass railings create an open space, unrestricted feeling, while still meeting the functions such as materials for partitioning and decoration.
Tempered glass railings: Optimized for space, utilizing maximum light source.
Tempered glass railings are easy to clean and hygienic.
Construction of tempered glass railing is quicker than other materials, saving time and money.
Tempered glass railings – has excellent impact resistance.
Can be combined with insulating film or reflective glass depending on the purpose.
Easily incorporated with modern or classic design styles, which is an important accent in architectural design.
TEMPERED GLASS RAILING CLASSIFICATION
Today, Tempered glass has many applications in life: making doors, roofs, and porches….And especially they are used a lot in making railings because of the outstanding advantages of it. But we are sure not everyone knows and distinguishes the types of tempered glass railings. Here we will learn about the types of tempered glass railings.
Classification of tempered glass railings by structure
U-shaped tempered glass railings
The glass will be buried deep into the concrete floor for about 5-7 cm, then we will use pressure-resistant and elastic silicone glue to stick them in. There is also a balcony glass balustrade with a stainless steel pass. For glass railings of this type, the glass will cover the side of the link, but there is a void between the glass and the wall. When finished, we will have a glass balustrade that will be a transparent glass wall.
Short cylindrical shape tempered glass railings
This type of balustrade has the characteristics that the bottom is separated from the floor and the glass is adjacent. The top of the balustrade will only have glass and handles that make your glass stairs airy and transparent at the top. The type of post used for this railing is divided into two types, the hip post and the floor pillar.
Long cylindrical shape tempered glass railings
For this type of railing, the pillars have many designs. There are types of pillars such as square stainless steel posts, round stainless steel pillars, wooden stainless steel pillars, iron pillars … with a standard height of 850mm. When making this long cylindrical railing, most of us have to use more handrails at the top.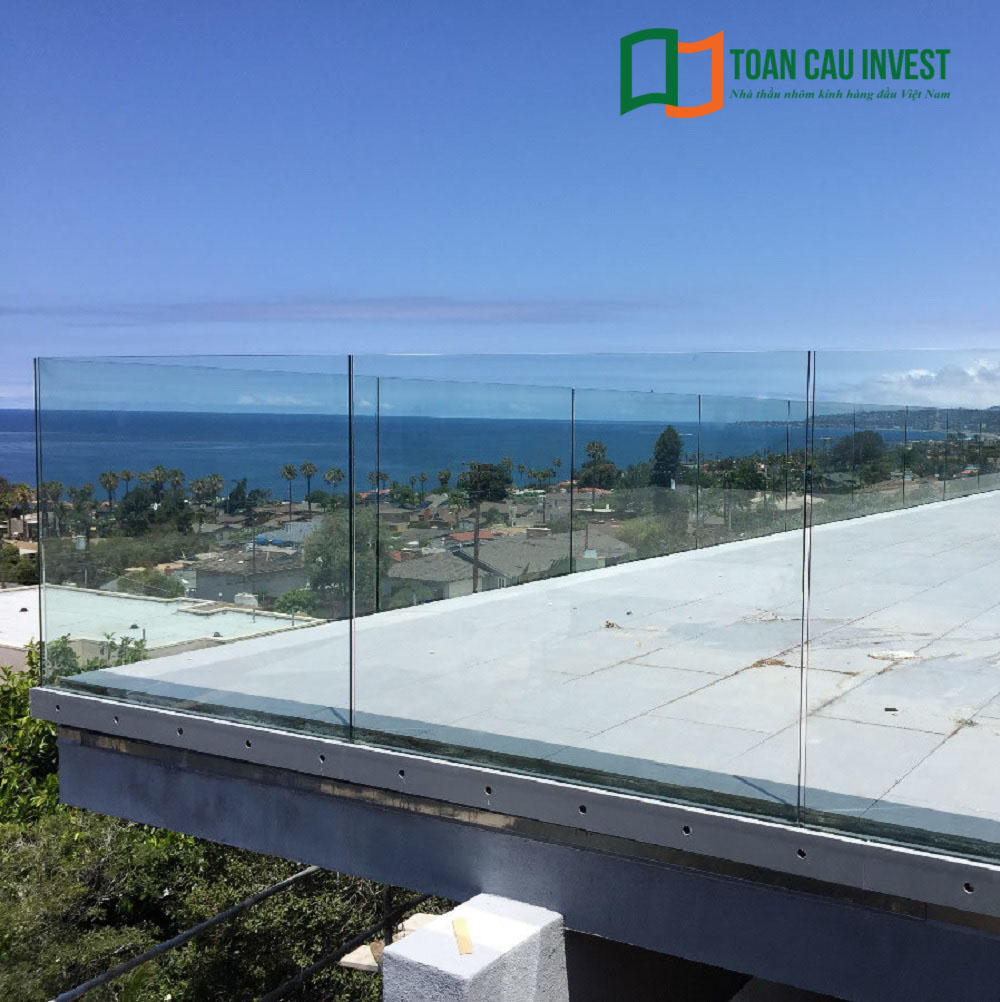 Classification of tempered glass railings by purpose of use
With the use of a glass railing on the balcony, the tempered glass will be connected directly to the floor. This glass railing usually has no posts, no screws or stainless steel handles. By minimizing other materials and making full use of tempered glass, you can create an airy space for the glass railing.
Glass balustrade for atrium hall
With this kind of balustrade, tempered glass is usually used with a length of 10mm -12mm, which is extended from the ceiling of the 1st floor to the balustrade of the 2nd floor. They are combined with translucent 304 stainless steel glass pillars and use of screws for direct bonding of glass panels together and through posts.
Glass balustrade for stairs
Just like the balustrade for the hall, this kind of tempered glass railings also uses tempered glass with a length of 10mm -12mm, using a 304 stainless steel handrail with scratch resistance.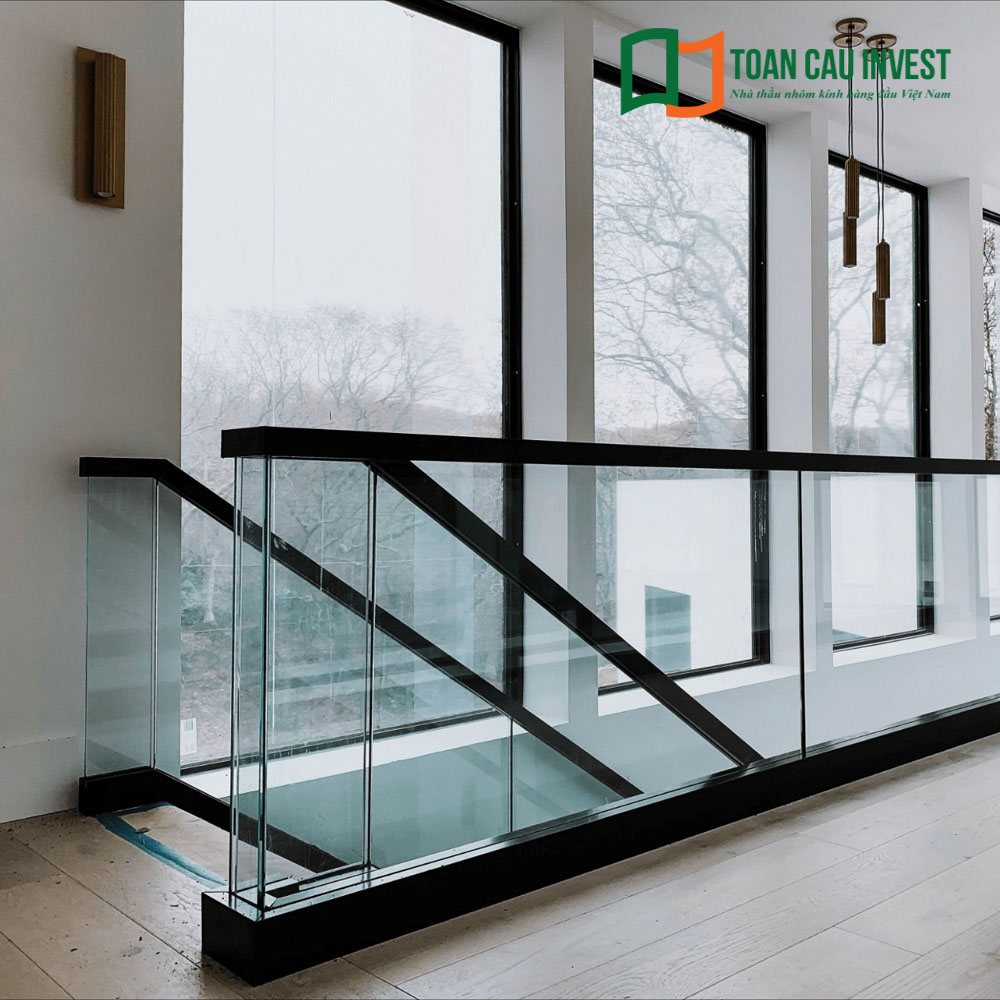 APPLICATION OF GLASS BALUSTRADE IN PRACTICE
Tempered glass railings are used more and more, gradually replacing the traditional masonry and wooden balustrades.
In modern life, glass balustrades are almost indispensable in high-rise buildings with their luxurious, transparent beauty.
Completely usable for open spaces, spaces that need flexibility and elegance.
Tempered glass railings are used for high-rise buildings, banks, offices, commercial centers, railway stations, airports…
With outstanding features and advantages, tempered glass railings are said to be a useful accessory for any construction project in Vietnam. It not only ensures durability but also brings a very high aesthetic value. Hopefully, with the above useful information, customers have found the answer to the question that you are wondering.
SOME PHOTOS TEMPERED GLASS RAILINGS – TOAN CAU INVEST
[pic_slideshow slide_type="sp-lan-can-kinh"]
You need to consult solution, design and installation of TEMPERED GLASS RAILINGS contact with
TOAN CAU INVEST – Aluminum Glass Construction Contractor
Our experts and workers have many years of experience in safe and dedicated construction
Completed many ALUMINUM GLASS modern architecture
throughout Hanoi, Ho Chi Minh City and many provinces in the nationwide
Fast execution, handover in time
FOR MORE INFORMATION, PLEASE CONTACT THE HOTLINE  (+84) 902 50 1185
TOAN CAU CONSTRUCTION INVESTMENT AND IMPORT-EXPORT JSC.
Address: Phu Do Residential Quarter, Phu Do Ward, Nam Tu Liem District, Ha Noi
Office: 20th floor, CT2 The Pride, To Huu, La Khe Ward, Ha Dong District. Hanoi
Tel: 02435 202 228 – Hotline: 0902 50 1185
Email: contact@toancauinvest.vn
Web: https://toancauinvest.vn/
Facebook: https://facebook.com/toancauinvest/