Construction of Glass Walls for Office Building
Construction: Office Building
Investor: Nam Tin Co., Ltd

Address: Nguyen Khang – Cau Giay Ward – Ha Noi City
Time to complete and put into use: Tháng 04/2014
According to the contract No. 2014/HDNT – TC signed on March 6, 2014, between Toan Cau Construction Investment and Import-Export Joint Stock Company signed with Nam Tin Co., Ltd., Toan Cau Invest is the contractor providing materials and construction, who install aluminum and glass items for this project. The total contract value is 2,792 billion VND.
Construction of Glass Walls for Office Building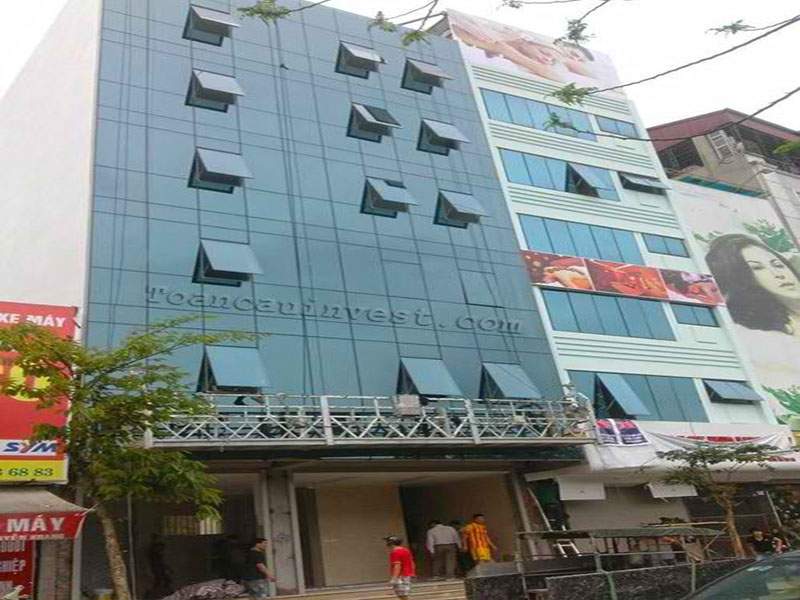 The aluminum and glass items of our company include:
1. The façade glass wall system is designed for the entire body of the building:
We are using a variety of products:
Aluminum system Hyundai 102, the thickness of aluminum is 2.4mm
Belgium – Indonesia reflective laminated safety glass with a thickness of 10.38mm in Classic Blue color, produced at Hai Long glass factory
Kin Long luxury accessories
The glass facade is cleverly combined with vertical aluminum spokes, creating a higher feeling for the whole building. The outstanding work has a modern style with the classic blue color of the glass.
2. System of aluminum and glass doors, windows open to the outside

3. Glass shower cabins on all floors

You need to consult solution, design and installation of ALUMINUM AND GLASS contact with
TOAN CAU INVEST – Aluminum Glass Construction Contractor
Our experts and workers have many years of experience in safe and dedicated construction
Completed many ALUMINUM GLASS modern architecture
throughout Hanoi, Ho Chi Minh City and many provinces in the nationwide
Fast execution, handover in time
FOR MORE INFORMATION, PLEASE CONTACT THE HOTLINE  (+84) 902 50 1185