Experiencing 10 years of creation and development. Toan Cau Invest has steadily affirmed the leading brand withinside the area of aluminum and glass creation in Vietnam. Entering 2022, Toan Cau Invest changes its brand identity to conform to the brand new scenario and create a leap forward in its mission and prescient undertaking to higher serve customers.
Meaning of the brand identity symbol
It is simple to peer that Toan Cau Invest changes its brand identity with the brand new Toan Cau Invest Logo, which is designed with a more stylized and metaphorical photo than the antique brand but expresses the meaning. The new identification represents the price inheritance and indicates the sturdy dedication to extrude the Toan Cau Invest emblem.
The metaphorical image in the logo with 2 stylized windows that overlap to form wings, an image that shows the development orientation and the high rise of the Global brand in the new era. The wings also represent continuous movement, the spirit of moving forward and never stopping to innovate.
The video announcing the new brand identity of Toan Cau Invest
Colors – Tagline
Toan Cau's logo design with the 2 colors blue and orange inherits the core values, which were attached to Toan Cau Invest throughout the creation and development process.
In addition to the iconic image, the motto was changed to "THE BEST ALUMINUM AND GLASS CONTRACTOR OF VIETNAM", which means to confirm the leadership position of Toan Cau Invest in the aluminum and glass industry in Vietnam.
The formation and development of Toan Cau Invest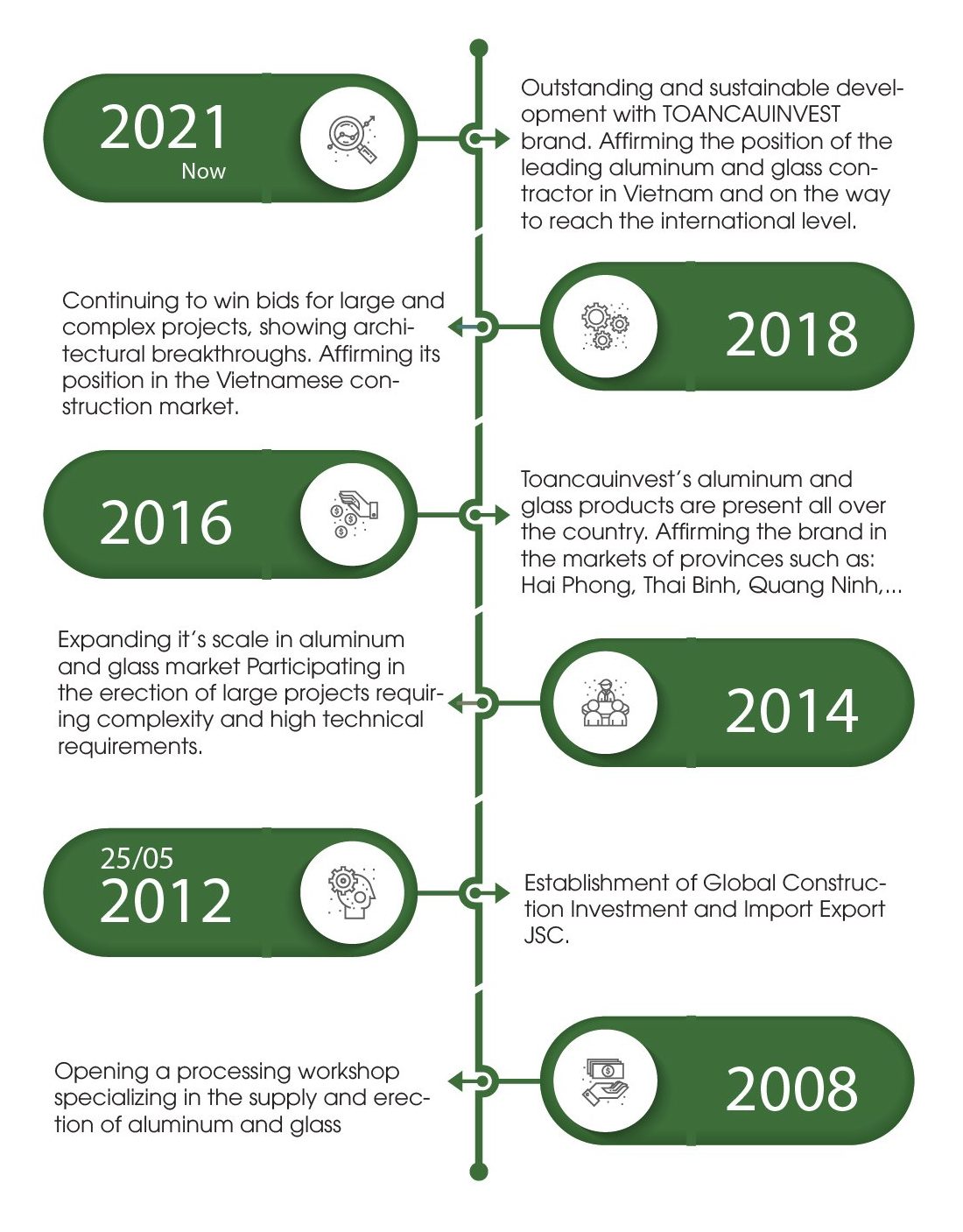 Toan Cau Invest was established in 2012 with the name: Toan Cau Construction Investment and Import-Export Joint Stock Company. In 12 years of development, Toan Cau Invest has construction experience of nearly 100 large and small projects in Vietnam. Up to now, the Toan Cau's Aluminum & Glass brand has full capacity to handle projects that require high technical and technological difficulty.
Toan Cau Invest changes its Brand Identity – Vision & Goals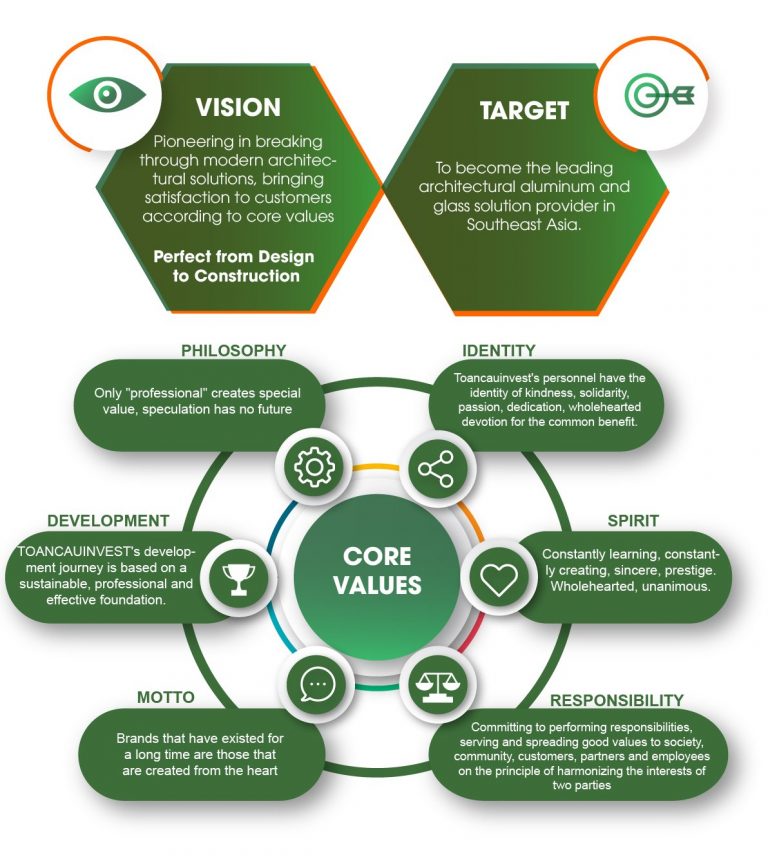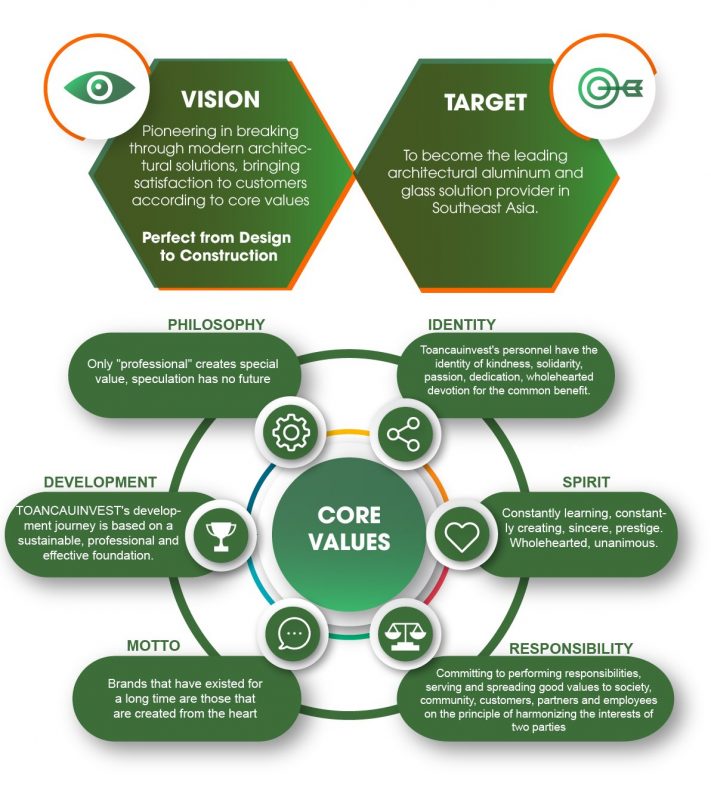 Toan Cau Invest's Projects
Toan Cau Invest has validated its capabilities and position by participating in several major projects including: The Arena Cam Ranh, Apec Mandana Wyndham Phu Yen, Royal Park Bac Ninh, Apec Diamond Lang Son, Mipec Xuan Thuy (Mipec Rubik 360), Spiral Glass Stairs (Phu Long Real Estate Group), Nacimex Nam Dinh Hotel, Mon Central 29 Lang Ha, D'palais Louis, D'le roi Soleil…
With the position among the top 10 aluminum and glass construction companies in Vietnam, Toan Cau Invest has been trusted by major investors in Vietnam including: APEC Group, Tran Thai Cam Ranh Joint Stock Company, Mipec Group, Nam Cuong Group, Tan Hoang Minh Group, GS Group, Dat Phuong Joint Stock Company, A Long Joint Stock Company, La Vong Group…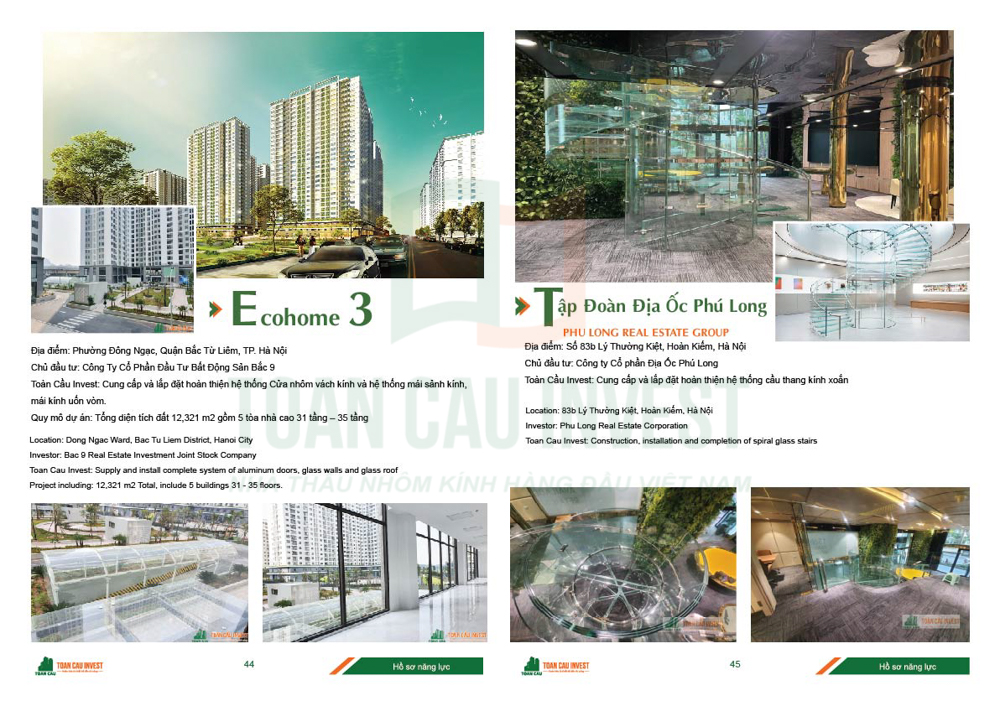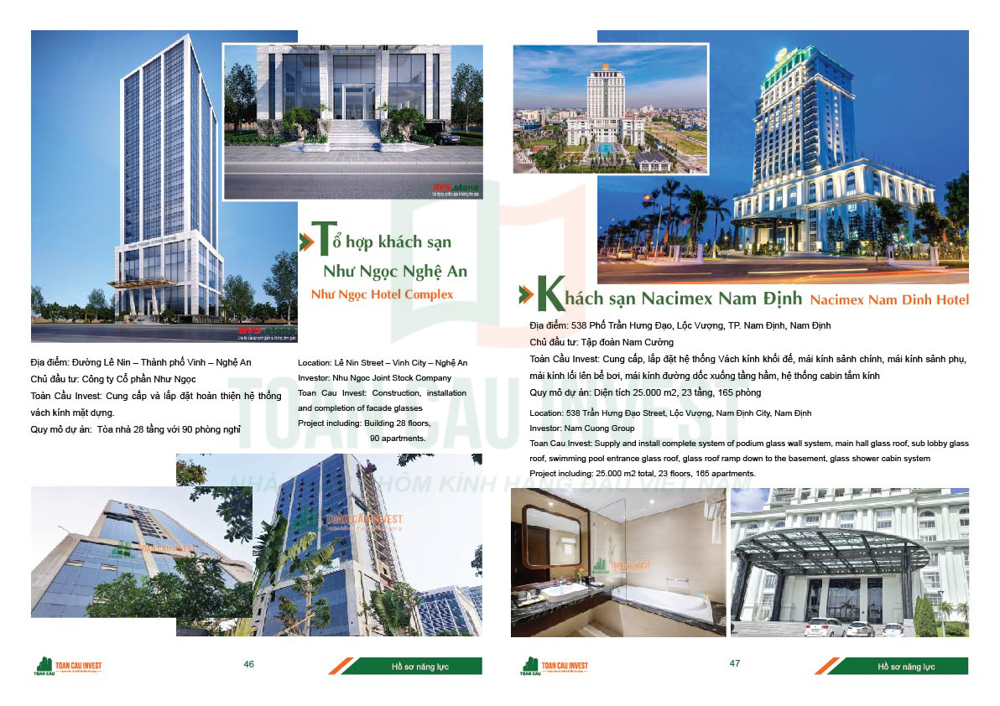 Changing the brand identity will pave the way for a new development strategy to take the Toan Cau Invest brand to a new level, create a clear mark in brand positioning and, more importantly, serve customers. With this set of mind, Toan Cau Invest hopes to continue earning the trust of investors in the future.
View full Capacity profile of the company here.
You need advice on design, construction, and pricing solutions for ALUMINUM AND GLASS PRODUCTS Contact us:
GLOBAL BUILDING INVESTMENT AND IMPORT – EXPORT JSC.

Headquarters: Adjacent Villa No. 12 – 31 Van Khe New Urban Area, La Khe Ward, Ha Dong District, Hanoi, Vietnam.
Transaction Office: Floor 20, Building CT2 The Pride, Nguyen Thanh Binh Street, La Khe Ward, Ha Dong District, Hanoi, Vietnam.
Tel: +84243 202 9998, +84243 202 9996.
Hotline: 0902 50 1185.
Email: contact@toancauinvest.vn
A team of skilled, dedicated and enthusiastic construction experts and workers with many years of experience.
Completed many works and projects in Hanoi, Ho Chi Minh City and many provinces nationwide.
FAST CONSTRUCTION – LABOR SAFETY – PROJECT HANDLING WITH QUALITY COMMITTED